Archives
Last Updated: December 03, 2013
Old material will be posted on this page.

Board and Administration Meetings
The Ministerial Board of Directors met in early December 2011 in Orlando and had a very productive set of meetings. Following the meetings MBOD Chairman Joel Meeker sent a report in the Weekly Update that outlined the decisions that were made. The full report can be found on the Member website by going to http://members.cogwa.org and clicking on the MBOD graphic on the upper right of the page. Or the direct link to the report is: http://members.cogwa.org/organization-leadership/reports/.
Since the board had the documents to review and communicate about since Thanksgiving, unanimous approval was given for the strategic plan, operations plan and financial plan (budget).
Results were also given of the ranking of the six cities that were suggested and studied as potential locations for our main or central office. Dallas came out at the top of the list--just one point of ahead of Atlanta and a few points ahead of Houston. The MBOD approved the recommendation that we go with the city that had the factual top numbers and approved a name for the office. The headquarters for COGWA will therefore be in the Dallas area.
The Morals and Ethics Assessment Committee was also selected and are comprised of the following long-time elders:
Mike Blackwell
Larry Neff
Mike Hanisko
Les McCullough
Paul Suckling
Thank you for your prayers for peaceful, productive and successful meetings. Those prayers were definitely answered.

Ministerial Board of Directors (MBOD) Meetings
December 4 - The Ministerial Board of Directors (MBOD for short) will have their required face-to-face meetings this week in Orlando, FL, beginning on Monday. There are a number of important items on the agenda--discussing and deciding on the administration's suggestion (based on a task force's recommendation) for a city in which to locate our central office and discussing and deciding on the strategic plan, operation plan and financial plan (budget) for next. I personally expect some good, but respectful discussions to take place and would appreciate your prayers for God's inspiration and direction. I think Mr. Joel Meeker's comments, Chairman of the MBOD, are very precise and appropriate. "Beginnings are important and delicate times. As we continue to pose a foundation for our part in God's work for the years to come, we ask that you join your prayers to ours that our Father in heaven will guide us to understand and fulfill His will in each decision that must be made."

Update on Governance Structure
November 4 - It was noted in today's member letter that the MBOD had a webinar meeting on Monday and selected Joel Meeker as their chairman.
October 5 - The results of the special election to replace three vacancies on the Ministerial Board of Directors (MBOD) were announced today. The vacancies were created when Jim Franks, Doug Horchak and Clyde Kilough accepted positions on the administration and were required to step down from the MBOD. The three men selected by ballots of elders are, in alphabetical order:
David Baker
Arnold Hampton
Larry Salyer
The complete MBOD is now comprised of:
David Baker
Arnold Hampton
Joel Meeker
Richard Pinelli
Larry Salyer
Richard Thompson
Leon Walker

East Texas Meeting Place
We recently learned that our normal meeting place for the COGWA-East Texas congregation has changed their policy. The administration there loves us, but have apparently had some issues with other renters, so the board made the decision they will no longer rent to anyone. So we're looking for a hall again. We know God will provide and have already found several leads, and will have to decide soon which one to use. We appreciate any prayers on our behalf.

Government Structure Updates
September 15 - It was announced today in a member letter that the board approved the president's proposal for operations managers and members of the Doctrine Committee. Those selected are:
Media - Clyde Kilough
Ministerial Services - Doug Horchak
Doctrine Committee:
| | |
| --- | --- |
| | John Foster |
| | Bruce Gore |
| | Don Henson |
| | David Johnson |
| | Ralph Levy |
September 1 - It was announced today that this week's meeting of the new board went smoothly and was very productive. They selected officers, established a task force to research where to locate a small office and had some initial discussions about going forward with fulfilling the Church's commission of preaching the gospel to the whole world. The officers selected are:
President - Jim Franks
Secretary - Dave Johnson
Treasurer - Jason Lovelady
On August 2 the Bylaws and Constitution for Church of God, a Worldwide Association were approved. On August 17 the Ministerial Board of Directors was selected from a group of 14 candidates that had been selected by the elders. The board members are:
Jim Franks
Doug Horchak
Clyde Kilough
Joel Meeker
Richard Pinelli
Richard Thompson
Leon Walker

Update on Camps
Challenger - Grand Canyon Trek - We had an excellent group of participants that bonded tightly from their first night together. They saw some weather extremes on their rim-to-rim hike, from 100+ temps down in the canyon to sleet and ice up on the rim. It was an exceptional year for our Challenger program and we thank God for His blessings.
Heritage - Camp was smaller this year than in the past, but that enabled us to enjoy some new activities that were difficult to do with a larger group, such as mountain biking and wood carving. The campers said they enjoyed the smaller feel and got to know know another much better. Again we were blessed with a safe and wonderful camp.
Sequoia - This camp is winding down this weekend (July 30-31) and is another new facility for us in the hills of CA surrounded by Sequoia National Forest. The highs were around 90 and the lows at night were in the low 50s, so that was excellent weather for sports and other activities in the day and their traditional campfire events in the evenings. The numbers were lower than in the past, but the campers took that as a challenge to get to know everyone there and it made for an excellent camp.
Strong Rock - Our new camp in the hills of northwest Georgia went extremely well. It's a new facility so everything is in wonderful shape, there has been a lot of rain so things were green and lush, and the campers were enthusiastic! The staff members were excited about serving God's young people and helping them build a relationship with God as well.
Carter - Our first teen camp at YMCA Camp Carter in Fort Worth was fantastic! We had 92 campers from a range of states and even though the temperature was in the triple digits each day, campers had a wonderful camp. As usual we did outdoor sports activities in the mornings and indoor or water activities in the afternoon. Add in a variety of evening open activities, dance and all camp events as well as varied Christian Living sessions in the evenings, and you have a recipe for a great time--especially when you have so many staff and campers all working to live by God's "honor code"!
Forest Glen - The preteen camp near Houston was a huge success in June! Just over 55 campers and 40+ staff had a great time at the camp in the Sam Houston State Forest. The mature trees and steady breeze all week helped make things more comfortable and the campers loved the "blob", Gaga ball and the twin zip lines as well as all the other more normal activities offered.

Tornadoes in Oklahoma and eastern seaboard area
Here is an update from Ministerial Services about tornadoes this weekend.
From Clyde Kilough, Todd Carey and Tim Waddle:
Many have been wondering how their fellow members have fared during the severe storms that travelled east over the last couple of days, spawning tornadoes that killed people from Oklahoma to the eastern seaboard. We are happy to report that, to our knowledge, no members in the Carolinas or Virginia were hurt or suffered damage. With 62 reported tornadoes, its worst outbreak of spring storms in two decades, North Carolina was hardest hit with 24 people killed (and the death toll still expected to rise). The Raleigh brethren were in the middle of services when the tornado sirens went off. After asking for God's protection, they went into the downstairs part of the facility to wait out the storm's passing, then resumed the Sabbath service. We thank God for His protection, and thank you for your concern. Once again, events like this remind us of the future day when there will be no such fear of destruction, and when those who have lost loved ones will see them again.

Regional Formal & Basketball
The 2011 regional teen prom and final regional basketball event of the season took place last weekend in Dallas. The teens had a great time at the prom, and the basketball games went well on Saturday night (for adults) and Sunday (adults and teens). After our two regional basketball events, the result were:
| | | | | |
| --- | --- | --- | --- | --- |
| Division | Team | Record Houston | Record Dallas | Record Total |
| Boys A | East Texas | 2-0 | 2-0 | 4-0 |
| Boys A | Dallas | 0-2 | 1-1 | 1-3 |
| Boys A | Houston | 1-1 | 0-2 | 1-3 |
| Girls A | Dallas | 2-0 | 2-0 | 4-0 |
| Girls A | Houston | 0-2 | 1-1 | 1-3 |
| Girls A | Fort Worth | 2-0 | 0-2 | 2-2 |
| Boys B | East Texas | 1-1 | 1-1 | 2-2 |
| Boys B | Dallas | 0-2 | 0-2 | 0-4 |
| Boys B | Fort Worth | 2-0 | 2-0 | 4-0 |
| Girls B | East Texas | 0-2 | 2-0 | 2-2 |
| Girls B | Austin | 1-1 | 0-2 | 1-3 |
| Mens A | Austin | 2-0 | 2-0 | 4-0 |
| Mens A | Dallas | 1-1 | 2-0 | 3-1 |
| Mens A | East Texas | 0-2 | DNP | 0-2 |
| Mens A | Houston - 1 | 0-2 | 0-2 | 0-4 |
| Mens A | Houston - 2 | 2-0 | 0-2 | 2-2 |
| Mens B | Austin | 1-1 | 1-1 | 2-2 |
| Mens B | Dallas | 0-2 | 0-2 | 0-4 |
| Mens B | East Texas | 1-1 | 1-1 | 2-2 |
| Mens B | Houston | 1-1 | 1-1 | 2-2 |
| Mens B | Fort Worth | 2-0 | 2-0 | 4-0 |

Camp Conference
To save money this year we had a scaled-down camp conference at the home of the Sargents in Kansas City. The dates are November 1-3 and we would appreciate your prayers for a successful set of meetings.
Here area a few photos.

Men's Leadership Weekend--North Texas
The weekend was GREAT! Check out the photos on the top of the page in the link below...
We're trying something new—a men's weekend for the North Texas churches! Have you noticed how it is politically incorrect these days to poke fun at almost any group—except for men that is. God established male and female roles for humans. If you'd like to join us to discuss the role of men (leadership, servanthood, marriage, and relationships), as well as build/strengthen bonds with your brothers in Christ in the North Texas area, why not join us for our 2010 Men's Weekend? The date is the January 29-31, 2010 weekend and includes housing and all meals from Friday dinner to Sunday breakfast for the flat price of $55 per person—less than the cost of two nights stay in a budget motel.
The weekend is open to college age and older—single or married. We'll be staying at the group camping area of Bonham State Park in 12-person dorms with bunk beds and will have seminars, discussion, church services, and a talent show/entertainment on Saturday night. Flyers and updated registration statistics are available at http://treybig.org/2010MensWeekend.htm or check your local congregation's Information Center. Due to the holiday travel, the deadline has been extended to January 10.

H1N1 Flu Announcement & Guidelines
The August Ministerial Newsletter contained an announcement for all churches about guidelines for local congregational meetings as well as the Feast of Tabernacles concerning the H1N1 flu virus. Health officials have encouraged organizations that normally have large numbers of people in a single area to establish programs to minimize the dangers of the flu. As responsible citizens and Christians it is only fitting that we do our part.
Click here to see the announcement and guidelines.

2008 Winter Family Weekend
We had a terrific Winter Family Weekend this year in Louisville, KY. The coed volleyball went very smoothly this year (despite me being sick one day with some kind of "bug" that was going around). There were tons of seminars on Friday night and Sabbath morning--as well as during the week--so everyone had ample opportunity for spiritual "feasting" as well as fellowship. Mr. Dick Thompson had the sermon on the Sabbath and we had 4 pieces of very special music that took the place of the sermonette. Everyone I spoke with thought it was a "best ever", and the Galt House was a beautiful venue for this wonderful family event. They were impressed with our group, saying it was the best behaved group of teens they've ever had. That's a great tribute to our teens as well as their parents who are trying to instill godly principles in them.
If you didn't go this year, consider it next year. We signed a 2-year contract with the Galt House so we'll definitely be back there next year.

2008 Barn Dance
Wow! We had a wonderful Chili Supper and Barn Dance last night at the UCG East Texas church building! I'm looking forward to getting some digital photos from our photographer for the evening and hope to post some soon here as well as on the ucgeasttexas.org local site. We had a lot of visitors (total of 257 for services) and many stayed for the evening of fun. There was musical entertainment, country music for dancing, two square dance sets, children's games, bonfire, hay ride, some teen fundraising activities, the chili supper & dessert--a great time for all of us!!
NEW! Click here for a page of candid photos from the evening, courtesy of Michael Crawford.

2008 Winter Family Weekend
Despite the damage from Hurricane Ike to our past hotel, the 2008 Winter Family Weekend is "on". God has blessed us with a newer, nicer, larger hotel and housing reservations can be made immediately. The dates are December 23 (Tuesday night) through December 27 (Saturday night). Click here for the announcement. You can also go to the Winter Family Weekend Website.

2007 Winter Family Weekend
The first announcement about the 2007 Winter Family Weekend has been released. The dates are Friday, December 21, through Tuesday night, December 25. Click here for the announcement from the Home Office. There is also an announcement about needs for volunteer help with the Dessert Social on Friday night. You can also check www.ucg.org/familyweekend for information and the latest updates.

Church Circuit Change
Beginning at the end of August Mr. Larry Salyer begins pastoring the Ruston and Texarkana congregations. I will continue to pastor the East Texas congregation and will post items that relate to this congregation. The websites for Ruston and Texarkana are www.ruston.ucg.org and www.texarkana.ucg.org respectively.

2010 GCE Meeting
The official business of the General Conference of Elders is completed and were read by the Secretary, Dave Johnson, since Mr. Holladay was on the ballot this year. Doug Horchak's term on the Council was up and he had not allowed his to go forward this year for reselection. Here are the preliminary results (since they must be verified by the accounting firm):
COE:
International-Bob Berendt
US: Mike Blackwell, Mario Seglie, David Treybig
There were two men who were the next in line to fill out the terms of men who resigned from the Council in the past year. The Council of Elders decided they had to be reconfirmed (simple majority votes), and both were reconfirmed by the following ballots:
David Baker - Yes-294, No-104
Jim Franks - Yes-249, No-153
Strategic Plan: Yes-300, No-96 - Passed
Operations Plan: Yes-292, No-100 - Passed
Budget: Yes-279, N0-120 - Passed
Three amendments were on the ballot and needed a 2/3 majority to be approved. Only one of the three was approved by the following ballots:
Amendment to change the percentages needed for some items: Yes-201, No-178 Did not pass
Amendment to all the Council to manage day-to-day affairs: Yes-170, No-208 Did not pass
Amendment timetable for amendments: Yes-300, No-67 Passed

Prayer Requests for
The home office sent this urgent request on March 31, 2010:
From Joel Meeker, regional coordinator, French-speaking areas:

We have just been informed that the government of Togo , in West Africa, has changed long-standing urban planning charts and plans to take over our new church building in the capital city of Lomé under eminent-domain rules and demolish it to make way for a new boulevard. Before purchasing the property and beginning construction, our elder in Togo , Mr. Kossi Fiaboé, checked the charts and has official stamped copies showing that our building should be completely safe for years to come. But the authorities recently made major changes and have informed us that our church hall will be demolished soon, and that they will decide what the value is to be repaid to the Church. This lot and hall were financed by local tithes and offerings (the lot and part of the building) and by the UCG Good Works project (most of the building). Prayers are urgently requested that our Father in Heaven will cause this change to be revisited and changed once again.

Mr. Mrs. Michel Ogoudélé in Cotonou , Bénin, may lose their home too, to be demolished due to a similar urban planning decision. The small congregation in Cotonou meets in their home. Your prayers are also requested for our Father's intervention and deliverance from this decision.




And if you would, please pray for the well-being of all our brethren in general in both these nations. They live in grinding poverty and in conditions of governmental mismanagement and corruption. They are being challenged by these trials at this time.

2009 GCE Meetings
Update: The numbers originally reports on the ballots was corrected below. None of the outcomes changes, but the numbers have been updated.
The official business of the General Conference of Elders is completed. Bob Dick's term on the Council was up again and he did not allow his name to go forward this year for reselection. There were no amendments on this year's docket, so the only items to ballot on were the COE members, and then the standard Strategic Plan, Operations Plan, and Budget. Here are the results:
COE:
International-William Eddington, US: Scott Ashley, Melvin Rhodes, Richard Thompson
Strategic Plan: 345 total votes: 299-yes, 46-no - Passed
Operations Plan: 345 total votes: 294-yes, 51-no - Passed
Budget: 343 total votes: 289-yes, 54-no - Passed

Spring Feasts
We had some great spring feast days. Passover attendance was high, we had 104 at the East Texas church hall for the Night To Be Much Observed with food catered from a local restaurant, and attendance on both the First and Last Day of Unleavened Bread was strong in both Ruston and East Texas. I hope yours went well also!

Feb 2009 COE Meetings
The Council of Elders meetings last week were quite involved with the budget issues and a number of issues to be discussed at length. The meeting reports will all come out at once and they plan to get them out on Tuesday, March 3rd.
Updated: The reports were released and posted on March 3. See Council page.

Fires in Australia
The brethren in Victoria, Australia have been miraculously spared. Click here for an update.

Prayer Request for Ghanaian Members
Updated Jan 6 as things are looking better. (Update is included in the link below.)
Click here for a prayer request on behalf of our members in Ghana.

Hurricane Ike
As of Thursday afternoon, September 11, Hurricane Ike is forecast to be a major storm when it hits the Texas coast line between Houston and Corpus Christi early Saturday morning. Here are some email messages sent out about taking precautions for the storm.
9/11/2008 email from Ministerial Services--services canceled in Houston for this Sabbath
9/11/2008 email to local people from me

August 2008 COE Meetings
Oops. I see I didn't get the agenda posted soon enough for the August COE meetings, which are going on as I write. It's posted now and the meeting reports will be posted as I get them. See Council of Elders page.

2008 GCE
The results are in from the balloting at the 2008 GCE. All three current Council of Elders members who were on the ballot were replaced this year, the ballot to rescind last year's ballot to relocate the Home Office passed, as did the Strategic Plan, Operations Plan, Budget and the amendment to allow for statements of support for proposed amendments. The results are:
COE:
International-Paul Keiffer, US: Aaron Dean, Darris McNeely, Robin Webber
Strategic Plan: 287-72 - Passed
Operations Plan 280-79 - Passed
Budget 270-91 - Passed
Amend 7.5.4 -- 173-181 Failed
Amend 8.3.1 -- 148-209 Failed
Amend 9.1 -- 193-161 Failed
Amend 9.6 -- 145-212 Failed
Amend 12.2.2 -- 266-88 Passed
Resolution to rescind the 2007 ballot to relocate the Home Office 186-176 - Passed
Statement from the Council on the relocation issue. Click here.

Recent Tornadoes in Southeast US
Ministerial Services sent an email about the effect on members of the recent bad weather.
5/12/2008 report from Mr. Franks

Members in Mexico & Bahamas
After the recent weather tragedies in Mexico and the Bahamas we have updates from the pastors there. Mr. Roybal reports twice on the members in the economically challenged area of Tabasco where members are safe but face financial troubles. Mr. Mather reports members are safe in the Bahamas.
10/7/2007 report on Bahamas from Mr. Mather
10/6/2007 update on Mexico from Mr. Roybal
10/6/2007 report on Mexico from Mr. Roybal to Mr. Walker

California Fires
10/22/2007
Roland Clark, an elder in Southern California, wrote in to let us know about the fires in the San Diego area that are impacting quite a region and some of our members.
Roland wrote: "There are several independent fires in the general Southern California area. It seems they often spontaneously start up about the same time in multiple locations. The news reports use the term 'From Malibu to Mexico ' to characterize the extensive area involved.
"The year has definitely been a severe drought, with only about 2 inches of rain all year, far, far below normal, and none in sight. The news reports are showing full programming coverage of the fire situation. They report that the weather high pressure area over the Great Basin is forcing the westerly Santa Ana winds through Arizona and Nevada and across California . It is a very hot and dry condition. Temperatures are predicted to be 94 degrees all along the coast, which is extreme, and coupled with extremely low humidity down to 3% !"
Your prayers are requested for our brethren and their homes. A few have already been evacuated. We hope to have an update in the upcoming Ministerial Services Newsletter, and sooner, if necessary.

2007 Feast
We just got back from a very inspiring and encouraging Feast of Tabernacles. I hope your Feast was as wonderful as ours!

Feast Cybercasts
There are four Feast sites offering cybercasting for members who are unable to attend the Feast this year--Jekyll Island, GA; Bend, OR; Kelowna, CN; Acapulco, MX. Go to www.ucg.org/feast to find the links.

Announcement About New Hymnal
A special letter was released September 11, 2007 about the new UCG hymnal and personal copies being available at all U.S. Feast sites. See the Home Office page or click here to go directly to the letter.

2007-08 Activity Calendar
The social activity calendar was set for the next year. Click here for the calendar.

2007 Camp Carter
We just got back from Camp Carter, so now I can update this site a bit... Camp was wonderful this year. We had a great staff and terrific campers this year. The weather was very unusual for July/August in Fort Worth--it rained...a LOT! We had a hard rain during registration on Sunday at the start of camp and rain every day until Thursday. It made for some "schedule juggling" but campers and staff all took it in stride with wonderful, patient attitudes showing they have truly absorbed and want to exhibit "The Zone".

2007 GCE Results
The balloting results from this year's General Conference of Elders resulted in all four items being passed--Strategic Plan, Operations Plan, the Budget, and the proposed relocation to the DFW area. The specific results are (no votes on the first three items were not reported by the CPA firm):
The official ballot results were released by the CPA firm in mid-May.
Strategic Plan 318 -
75
Operations Plan 305 - 85
Budget 281 -
111
Nominating Process 319 - 66
Relocation to DFW 202 - 195

The results of balloting for the Council are:
International - Robert Berendt
US - Roy Holladay, Clyde Kilough, Vic Kubik

Request for Prayer and Fasting
The elders of the United Church of God would appreciate you fasting and praying about the upcoming General Conference of Elders meeting in Cincinnati, May 5-7. Click here for the request from Bob Dick, Chairman of the Council of Elders.

Announcement About Covenants Booklet
A special letter was released March 27, 2007 about the new booklet on the covenants that was recently printed and will be sent to all member households in the next few weeks. The 176-page booklet (more of a book) is titled The New Covenant: Does It Abolish God's Law? Click here for details!

Special Announcement from UCG President
The president of United Church of God, Clyde Kilough, sent out a special announcement after the December 2006 Council meetings sharing the good news of God's blessing on the income and thanking the members for their support. Read the message here.

Families' and Singles' Spring Cruise
Here is your opportunity to escape the snow and cold and have fellowship at the same time. A growing tradition over the past six years is the Midwest Family and Singles' Club spring cruise. This year the group has partnered with the Los Angeles congregation to put forward a spring cruise featuring the California and Mexico coast. A delightful three-night weekend cruise Feb. 23-26, 2007, will sail from Los Angeles on Royal Caribbean's Monarch of the Seas.
Arrangements are being made for church services and activities. The local church coordination contacts are Rick Johnson at (630) 846-4653 and Bob Brown at (626) 798-3351. For pricing and details, see www.travelgallery.com. The program will need a minimum number of people to operate. The deadline for reservations and payment is Dec. 14, 2006. Make your reservation and deposit by calling Travel Gallery at (800) 858-6999.

Winter Camp Is Fast Approaching!
Attention teens 12-18: Take advantage of the chance to attend camp this December by applying for Winter Camp. Camp will be held Dec. 27-Jan. 1 in Montello, WI - about 1/2 hour NE of the Dells. Activities will include ice skating, cross-country skiing, horseback riding, volleyball, dancing, plus the opportunity to spend time with friends and learn more about God's way.
Applications are available online at www.ucg.org/youth. Please apply by Nov. 15th. For more information see the UYC Camp Magazine, or call Gary & Gale Black at (651) 769-8802.

2006 Winter Family Weekend
The 2006 Winter Family Weekend is shaping up to be bigger than ever! The dates are December 22-26 in Louisville, KY. Click here for details!
Please remember to register online for the Winter Family Weekend. Many have made reservations at the hotels, but not registered for the event, and we need the registration to help plan for all the events.
Also, a Sign Language Interpreters Workshop has been added to the weekend. Click here for details.

December 2005 Fires in TX & OK
We received an update from the Home Office about the fires in Texas and Oklahoma. Click here for more information.

Personal Thank You
We (the Treybig family) have received many, many cards and expressions of love and concern after the death of my father, Harold Treybig. Many have written about positive influence and example he and my mother have been to them. We want to thank everyone for their thoughts, prayers, concerns, and expressions of compassion that have been extended to our family in these difficult times. They are very encouraging.

2006 Salt Lake City Ski Weekend
The Salt Lake City, Utah, congregation will host its annual family ski weekend over the Martin Luther King holiday, Jan. 14 to 16, 2006. Please note that these
dates differ from the recent announcement in the United News. Click here for more information.

2005 East Texas Barn Dance
It's that time again--heading into winter and time to start planning for the annual East Texas Barn Dance. The date is Saturday night, December 17, and we plan to use the multi-use area of our new church building with a chili supper, square dancing, a wide variety of music, camp fires, and games for the children. Anyone wishing to attend is welcome to join us! Click here for a flyer. (PDF format)

Winter Family Weekend
The 2005 Winter Family Weekend announcement and flyer were made available in mid-November. It runs from Friday night, December 23 through Tuesday evening, December 27 this year in Louisville, KY. (These are both also available on the Home Office page.)

Hurricane Wilma
Some recent updates on Hurricane Wilma's impact on members in Cancun and south Florida are on the Home Office page.

Hurricane Katrina
October 20 Update: We took a tour of Slidell on our way to the Feast. Click here for a page of photos. It was incredible to see the amount of damage--all the blue tarps on roofs of houses & businesses covering holes--as well as the amount of debris still sitting out at the streets waiting for the overwhelmed trash haulers to pick up. It's already 6 weeks since the storm and they can't seem to clear much at all due to the sheer volume of the debris. Last Friday as we were driving into the area one side of the twin-spans bridge on I-10 from Slidell to New Orleans East was opened with one lane going each direction. That will take a lot of pressure off the Causeway bridge which goes across the middle of Lake Pontchartrain. The other side won't be open until sometime in January. Much of New Orleans East still had water standing. It was dark when we drove through it, so we didn't see a lot of details there, but it appears it's still going to be a LONG time before all is restored.
September 30 Update: Here's hopefully a final update on both recent hurricanes -- Katrina and Rita -- from pastors in several of the affected areas. Click here for the message. There is also an announcement that the Good Works Katrina Relief program is being closed to further donations. Click here for the announcement.
September 19 Update: Here's another update from the Home Office. This one is from Mr. Harold Rhodes (Pensacola, FL pastor). Click here for the message.
September 16 Update: Here's another update from Andy Burnett (pastor in New Orleans) via the Home Office. Click here for the message.
September 8 (Thurs) Update: Here's my email update to local members today. It will probably be my last since it appears the period of greatest uncertainty about members' whereabouts and safety is now past. Bill Palmer, of the Covington congregation, sent this email about the destruction. Here's an email from Dr. Avent with an update.
September 5 (Mon) Update: Here's my email update to local members today.
September 4 (Sun) Update: Today I spoke with Andy Burnett and Rick Avent again (actually provided a 3-way phone hookup so they could talk to each other). Dr. Avent spent 12 hours driving to several members' homes in the Covington/Slidell area and found all to be safe, though some are working on repairs. Click here for photos he took today. Several more members were located today--again with all being safe. Click here for my email update.
September 1 (Thurs) Update: More good news! Additional members, both in United and other COG groups have been accounted for. Here's my email update to local members today. Also, UCG President Clyde Kilough sent a letter about the tragedy. Click here for the letter (or go to the Home Office page.)
August 31 (Wed) Update: Good news about another few couples who had stayed behind to ride out the storm. Neither was injured, and flooding in the Covington/Mandeville area of the Northshore is not as severe as elsewhere. Click here for some details.
August 30 (Tues) Update: I received word from friends in the southern LA area about some of those members who stayed behind. Click here for the message I send our local members.

2005 Winter Family Weekend
Click here for this week's letter from the president about the Winter Family Weekend in Lousiville, KY this December. (It's also on the Home Office page as the August 8, 2005 President's Letter.)

ABC Mini-Sampler in Nashville
ABC will hold a Mini-Sampler in Nashville, TN on September 17 & 18, 2005. Click here for more information.

President's Letter
This week's President's letter contains some announcements about administrative and pastoral changes, including a new head of Ministerial Services. See Home Office page.

Camp Carter
We had a fantastic camp the last week of July at Camp Carter. Sorry for being late for some updates to this site, but we were swamped with camp work! :)

Hurricane Dennis
It appears our members in the Florida panhandle were spared any serious injury or damage from Hurricane Dennis which came ashore near Navarre Beach, FL. Click here for a brief report from Harold Rhodes, pastor in the area.

Robert Dick Chosen as Council Chairman
Following his selection to be the next president of UCGIA, Clyde Kilough will step down as Council Chairman. At its meeting on May 17, the Council of Elders chose former Chairman Robert Dick back to duty as its chairman. See the Council page for the May 17, 2005 meeting report.

President Chosen
On Thursday, May 12, Clyde Kilough was chosen to be the next president of UCGIA. Click here for a press release announcing it.

Candidates for President
May 4, 2005 Update:
Based on the blind ballot input given to Secretary Gerald Seelig, the Council today reduced the number of candidates for president to the top three. Click here for more details, but the final three names are:
Jim Franks
Clyde Kilough
Les McCullough
The Council of Elders reported that there are five men who have accepted nomination for the office of UCGIA president. The final list of candidates will be determined during a teleconference of the Council on Tuesday, May 3, 2005. (It's now been moved to Wednesday, May 4th due to travel of a Council member so he can participate.) Since the target was set at a minimum of 3 and a maximum of 4, it is possible that there might be no change in the list after Wednesday. The final selection will be made on May 12.
The five names are:
Bill Bradford
Aaron Dean
Jim Franks
Clyde Kilough
Les McCullough

2005 Council of Elders
The three Council members whose terms expire this year are Aaron Dean, Jim Franks, and Doug Horchak for the United States and Joel Meeker for International. Doug Horchak withdrew his name from consideration. The nominees after the first round of input are:
2005 International Nominees
William Eddington
Joel Meeker

2005 U.S. Nominees
Gary Antion
Aaron Dean
Jim Franks
Dennis Luker
Richard Pinelli
Larry Salyer

Tragedy in Wisconsin
We are both shocked and appalled at the terrible and senseless loss of life in the Living Church of God congregation in Brookfield, Wisconsin this past Sabbath, March 12, 2005. Our prayers go out to the survivors and friends. Both President Roy Holladay and the Council of Elders of the United Church of God have issued official statements about the terrible events. Click below for the statements:
President Holladay Council of Elders March 17 Update

Council of Elders Selections
Our nominees for the Council of Elders for selection at the 2004 General Conference of Elders meetings are listed below. Those in bold were selected to three year terms.
INTERNATIONAL
William Eddington
Leon Walker

UNITED STATES
Gary Antion
Clyde Kilough
Victor Kubik
Dennis Luker
Les McCullough
Richard Pinelli
The Strategic Plan, Operations Plan and Budget all passed. The first two amendments (modifying the Mission Statement and precluding operation managers from the Council) failed. The amendment specific procedural issues about selecting a COE replacement is needed passed.

Mont Saint Anne, Quebec Feast Site Canceled
The site has had to be canceled for 2004 due to a fire at the location of services. Click here to read details.

Death of Buck Hammer
I am sorry to have to announce the death of Mr. Buck Hammer. He has been such a driving force in the Church all around the East Texas area for many decades. He was always a positive person--forward looking--and a constant advocate of building for the future--both figuratively and literally. Most will remember that he was instrumental with is family in building the Big Sandy campus of Ambassador College. His business endeavors included many ventures including a construction and paving company and the specialty soil and fertilizer company he worked for all the way to the day of his death--Vital Earth Resources. He has been instrumental in driving our recent drive to be able to build a local church building for the East Texas congregation. In fact, in honor of his devotion to that project, the family asks that any donations be sent to the East Texas Building Fund, P.O. Box 492 , Hawkins , TX 75765 .
He will be sorely missed! Click here for details.

Houston Volleyball Weekend
On the weekend of November 22-23, 2003 we had 11 teen teams and 11 adults teams participating in a volleyball weekend in Houston. Thanks to everyone from the Houston congregations for their hard work in sponsoring the event. Our East Texas teen teams did very well. The A team was 2-2 and the B team was 3-0. Click here for a few photos.

California Wildfires
Here's an update on the impact the California wildfires are having on members in the area.

Wonderful Feast!
We just got back from an absolutely fabulous Feast in Mont Sainte Anne, Quebec. The members there were warm and friendly, the scenery was gorgeous with the fall foliage at its peak, messages were positive and inspiring and the French food was wonderful. Photos to be posted soon...

Kerrville Feast of Tabernacles
The schedule for services and activities in Kerrville has changed a little. Click here for the latest schedule (PDF).

Death of Garner Ted Armstrong
Garner Ted Armstrong died Monday, September 15, at the age of 73. He had been in the hospital for several weeks with pneumonia. Had finally gotten our of Intensive Care, then took a turn for the worse when his liver function dropped off and headed back to ICU before dying on 9/15. The funeral was September 18 at Croley Funeral Home in Gladewater, TX. There were somewhere around 500 in attendance with an overflow crowd outside. Regardless of what people may have thought about him, there is no escaping the fact that he had a bit impact on many people's lives. Click here for the New York Time obituary. Click here for Ron Dart's personal comments about GTA and his death.

Hurricane Isabelle
Read an update from pastor Todd Carey in Virginia (9/24/2003). The report is now updated (9/26/2003).

Death of Richard Rice
I received a message informing me of Richard Rice's death in Baton Rouge, LA in July. Here's the message:
"Richard Rice, a long-time minister and employee of the Worldwide Church of God, died unexpectedly on Saturday morning, July 5. The cause is believed to be a massive heart attack, although he had shown no earlier signs of heart disease.

"The funeral was held Wednesday, July 9, in Baton Rouge, Louisiana.

"Mr. Rice came to Ambassador College in 1954. He worked as a carpenter, teacher and pastor before being promoted to Director of the Mail Processing Center in the 1970s. In 1995, he transferred to Church Administration where he became the Assistant Director of CAD, USA. He also served on the WCG Board of Directors until he retired in 1996.

"Mr. Rice was known for his compassion and deep concern for others. He will be greatly missed."

2003 Houston Preteen Camp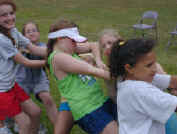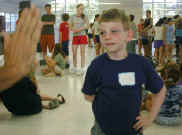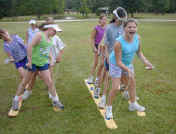 The 2003 preteen camp went VERY well. Click here for a page of photos.

2003 Church Picnic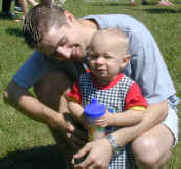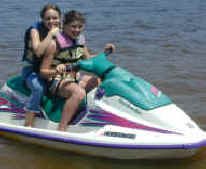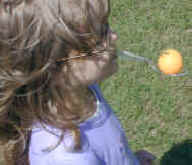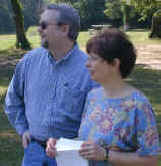 Special thanks to the Cases for their work in organizing a wonderful church picnic in the park at Lake Gladewater. Click here for a page of photos.

Schoolpop (Albertsons) Community Partners Program

I'm happy to make you aware of a new program that can benefit our local group. Albertsons has begun advertising a program that gives a rebate to school and youth groups through Schoolpop at no cost to the participant. Our United Teens of East Texas have been approved as a registered group. They have told us they want some of the funds for their activities and trips, but want to donate most of the funds for now to our building fund. They feel they will benefit greatly from a building along with the congregation. Click here for a description of the five aspects of the program. If anyone would like to support us, just register at www.schoolpop.com and enter our number, which is 0620220.

Cincinnati Family Weekend
The 2002 Cincinnati Family Weekend will use a larger facility--the Lexington (Kentucky) Griffin Gate Resort. Click here for an updated email message with links to photos, or following click on the link to the Cincy Family Weekend Web page at http://www.ucgcincy.com/FamilyTournament/default.asp.
They have just announced a NEW item for the weekend--a teen talent show. Click here for details.

Update on Italian Brethren
We received an update on our Italian brethren from the pastor there, Mr. Carmelo Anastasi, after the recent eruptions of Mt. Etna and the earthquake in the southern region of Puglia. None of our brethren were affected. Read the report here.

Camp Team Meetings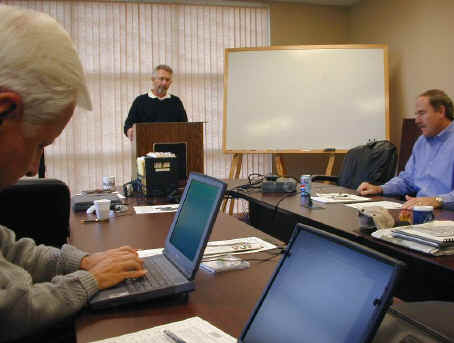 I just got back from a very enjoyable and profitable (though quick) meeting of the camp team. Each year we meet at the home office for 2-1/2 days to discuss our camp program for the past year, to discuss what went well, areas of program innovation and improvement that can help us in the future, review policies, assess where we are and where we're going and how well we're meeting our goals. It's a very fast-paced, invigorating, and enjoyable set of meetings with the full camp team. This year we were happy to have our President, Roy Holladay, with us for both full days of meetings on Sunday and Monday. Then on Tuesday we had a representative of the American Camping Association come speak to us.

Feast of Tabernacles
My family and I just returned from a wonderful Feast of Tabernacles in Panama City Beach, FL. We had over 1,800 in attendance and even a couple of days of wind and rain from Tropical Storm Isidore couldn't dampen the spirits! I'll try to get some photos online before long.

Grand Canyon Trip!
We left on our teen trip to the Grand Canyon from Gladewater on Sunday morning, August 4th. Click here for a page of photos from the trip.

Fires Near Camp Davidson!
There is a forest fire near Camp Davidson and the camp has been in danger of needed to be evacuated. If that happens and the fire is not brought under control, there was concern that we might have to cancel our United Youth Camps program there in mid-August. It now appears we will be able to run our camp after all. Read the details here.
Update: Thanks so much for your prayers. The fire is now 100% contained and camp will go on as planned. Read the details here.

Camp Carter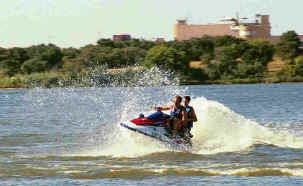 We just returned from another very successful week at Camp Carter. This year we had 101 campers--about a 10%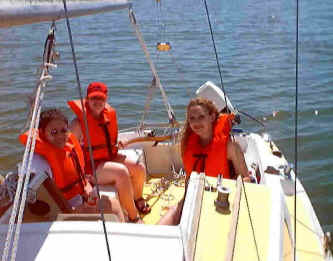 increase over last year. We added a number of more challenging activities for the oldest boys and girls dorms and had twice as many older teens as last year. We can't be certain yet if there was a direct correlation, but it seems there was so we're happy we were able to provide activities that were of greater interest to the older teens. You can read more updates on the Camp Carter website in a couple of weeks--once we get the site updated from this year.

New Pastor for Covington-Laurel-New Orleans
As a result of health issues and retirement, several pastors will be leaving the fulltime ministry in the months ahead. These factors in addition to scheduled transfers and a change in our presidency has created a challenge for the Ministerial Services team as they attempt to provide fulltime pastors for all of our congregations. The MS Team is in the process of examining several options for replacing Mr. Treybig, but no final decisions have been made. In order to meet the immediate need in this area, Mr. Ken Giese, our Regional Pastor, has been named interim pastor of Covington-Laurel-New Orleans. Mr. Giese will be working closely with the leadership of all three congregations in meeting your ministerial needs until a replacement pastor can be named and put in place. Please don't hesitate to contact him.

Kenneth Giese
3403 Woodsage Drive
Sugar Land, TX 77479
281.494.0235
ken_giese@ucg.org

New Orleans-Covington "Going Away Party"
We ended having the Houston choir join us for a special combined service with New Orleans and Covington the last Sabbath we were in the area. Click here for some photos.

Laurel "Going Away Party"
The Laurel, MS congregation had a going away party to honor us on the Sabbath of May 25th. We met in the afternoon, had a service, then a Bible Study, then the meal and activities. Click here for some details.

New Council Chairman:

Following the resignation of Roy Holladay as Chairman of the Council of Elders in order for him to assume his new responsibilities as President of UCGIA, it was necessary to select a new Chairman. This was the first item of business at the latest meetings of the Council. As reported in the May 7, 2002 report (see Council of Elders page) on the fourth ballot, Clyde Kilough (shown here with his wife, Dee) was chosen as the new Chairman. I have know him since my teen years in the Church and am pleased to see him placed in that responsibility.

2002 GCE Meetings:
This year's meetings for the General Conference of Elders concluded on Monday evening, May 6th. Sunday morning there were reports from seven international areas as well as the normal reports from the President, Treasurer and a presentation from Ministerial Services. The balloting took place on Sunday afternoon. There was a tie on the ballot for US representatives of the Council of Elders, so the COE met that night to make the decision and released the results on Monday.
International Representative -- John Jewell (returning)
US Representatives -- Aaron Dean (returning), Jim Franks, Doug Horchak
Strategic Plan - passed, 261-24
Operations Plan - passed, 269-17
Budget - passed, 266-17
Amendment to article about officers - not passed, 85-195
Amendment to article about amendment procedure - passed, 260-17
On Sunday afternoon Gary Petty gave the keynote address on "To the Measure of the Stature of the Fullness of Christ". On Monday, Melvin Rhodes spoke on "Equipping the Saints for Service (or Ministry)", Bob Berendt spoke on "Humble and Bold", and David Johnson spoke on "Pastoring, Teaching, and Equipping for Service." President elect and Chairman Roy Holladay closed with a session about what God looks for in a pastor.
Les McCullough was given a rosewood mariners clock for his years of service as president and his wife Marion was presented with a beautiful arrangement of flowers.



Click a thumbnail to enlarge it.
Click here for the official reports of the GCE meetings. May 4, May 5, May 6.
Also of note was the dedication of the new Home Office building on the morning of May 4th. Click here for a page of photos.

2002 Feast Announcements:
Hard of Hearing:
Gatlinburg, TN and Bend, OR are the two official sites for the deaf and hard-of-hearing brethren who will need oral or sign language interpreting at the 2002 Feast of Tabernacles. Anyone in need of these services or any interpreters able to provide these services, please contact Mark Welch at 918-247-4325, mark_welch@ucg.org, or P.O. Box 967, Kellyville, OK 74039 if you have not done so
already. We would like to have as complete a directory of deaf members and interpreters as possible.

Jamaican Youth Camp-Camp Saunders
UCG will hold its first Caribbean Youth Camp August 11 – 18 this year, at the Madge Saunders Retreat and Conference Centre, Jamaica.

Only a few miles from the Ocho Rios feast site, the Camp Saunders grounds are a short distance from a beach, which will allow campers to enjoy seashore activities. Amongst this camp's unique features are snorkeling, and a climb up the world-famous Dunns River Falls, a popular feature at recent feasts. Standard sports such as volleyball, football, and basketball will also be included.

Though mainly for the benefit of Caribbean young people from 12 – 18 years old, limited spaces are also available for campers and workers from other regions. Camp tuition is approximately $260 US, with additional charges for transportation to and from the Montego Bay airport.

For further information contact Todd Carey, 6061 Shiloh Place, Mechanicsville, VA 23111 USA. Phone: 804-779-0454.
Email: Todd_Carey@ucg.org

AC/AU Reunion
Phil McCollum is organizing a reunion in Nashville, TN of all AC/AU alumni. He rescheduled it for the weekend of June 22-23, 2002, and it's open to anyone who has ever attended Ambassador College or Ambassador University. Gary Antion will be giving the sermon in Nashville that Sabbath and Phil asks that you contact him in advance so they know how much room they need. You can email him at acreunion2002@comcast.net or you can check out the Web site he created for the event at http://mywebpages.comcast.net/acreunion2002.

2002 DUB Dinner Dance
Our dinner dance during the Days of Unleavened Bread was attended by 55 people, including a few singles who came from out of state just to join in our activity. Click here to see a page of photos.

February Talent/Variety Show
The New Orleans Social Committee organized a Talent and Variety show for the New Orleans and Covington congregations. A lot of hard work went into the production. Special thanks to Daniel & Tammy Cunningham and the others who worked so long to produce such a fun evening with Tom Letellier as the MC. Click here to see a page of photos of the evening.

New UCGIA President
In a February 28th e-mail message the Council of Elders announced the selection of Mr. Roy Holladay as the next president of the United Church of God, an International Association. He will assume that office at the beginning of the Council of Elders meetings on May 7th.
The text of the e-mail message is available on the Council page.

Laurel Entertainment & Games Night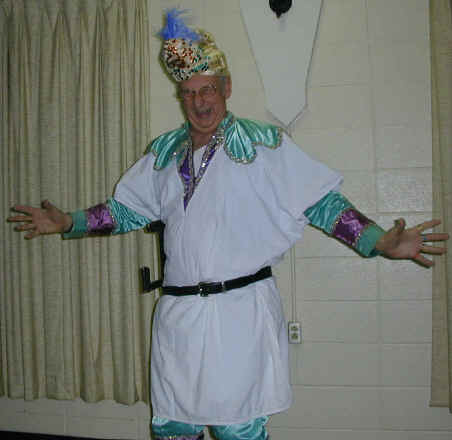 On the Sabbath afternoon of January 19, the Laurel congregation met at 3 PM instead of their normal 10:30 AM to allow for a winter social after sundown.
After services we had a wonderful potluck meal and then our first baptism for the Laurel congregation in some time.
Following that we were presented with a few skits for some entertainment and then enjoyed games the rest of the evening.
Who is the person in this photo, and what is he doing? To find the answers to those questions, you'll have to click here for a page of thumbnails from the evening's activities. :)

Couple Shower for Adam & Keri
The Covington congregation hosted a couple shower for Adam Sanders and his fiancé Keri McConnaughey on Saturday night, January 5. Click here for a page of thumbnails from the evening.

Cincinnati Family Weekend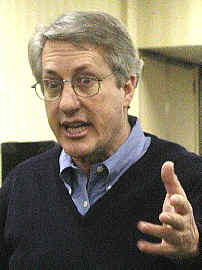 We attended the Cincinnati Family Weekend with our group of teens and young adults last December. There were around 1,500 people there for Sabbath services, with literally hundreds of teens and young adults involved in the sports activities and seminars. A special Ezekiel Award was given to an outstanding boy (David Kennebeck) and an outstanding girl (Joy LaBissoniere) in a special presentation during Sabbath services. Congratulations to Pastor Jim O'Brien who organized the event along with the help of a large number of volunteers. More later, but click here to see some photos and other information about the weekend on the UCG Cincinnati north website.

Nominees for President of UCG
The Council of Elders has released a letter (November 1, 2001) that says 23 names were submitted for consideration as nominees for president. Of that number, nine said they would be willing to serve as president if appointed by the Council. Here are those names:
Gary Antion, Aaron Dean, Matt Fenchel, Roy Holladay, Clyde Kilough, Dennis Luker, Les McCullough, Jim O'Brien, and Richard Pinelli.
The letter contains more information--such as reports of Council Feast travels, agenda items for the December meetings, etc. See the Council of Elders page to view the full letter.
(Roy Holladay was selected in February 2002.)

South Africa Video Project
UCG videography employee and minister Howard Davis will travel to South Africa for Indianapolis PBS station for a video special at the end of October. Read Vic Kubik's message about the project by clicking here.

Attack on America!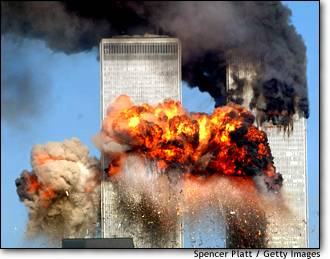 What a horrible terrorist attack we have just witnessed! I was in Pensacola, FL for a few days this week with some of my extended family member when the attack took place. Naturally we were glued to the television in shocked horror waiting for updates about this dastardly and cowardly attack as shown in the photo here of the second tower being struck by a high jacked airplane. (Photo from msnbc.com.) Our hearts and prayers go to out to the families who have lost loved ones to the wicked actions of the perpetrators of this crime.
September 11, 2001 is a date that will certainly live in infamy in US history. At this point it is impossible to know the extent of the impact on life here in the US. Only time will reveal that. We have been touched and grieved in the past by disasters experienced in other countries. The savagery of terrorism has now struck with great force in our own nation.
It causes us to pray more deeply the words Jesus Christ spoke in the model prayer, "Thy Kingdom come!", and it has not escaped our notice that this horrible event occurred just prior to the fall Holy Days which picture the return of Jesus Christ and the establishing of that Kingdom. We long more deeply than ever for that time of peace and safety for all as we mourn for the many families touched by this horrible act.
Click here for updates from the Home Office about this attack.
Click here to go to Lifenets webpage about their Manhattan project specifically to help with the recent disaster. Lifenets was founded by UCG Council Member Victor Kubik and by using volunteers, 100% of donations can be sent to help with needs in the New York area.
Special Letter--The Council of Elders has written a special letter to members. Click on the Council of Elders page to read it.

Subscriber Development
We've started the next phase of our Good News Waiting Room and GN brochure programs--a Subscriber Development program. Now that many people are reading the Good News with their own personal subscription, we want to let people know there are local congregations that support the magazine. We started our program with a letter to all subscribers offering them the chance to either attend services to here a sermon on "The Jesus Most Christians Don't Know" live, or the opportunity to get a taped copy of the sermon. Here are the results of our March 2001 mailing.
| | |
| --- | --- |
| | New Orleans mailed out 1,593 letters with a return post card to order the tape. No one attended the service in Kenner on March 10th, but as of July 4th, we've received 154 requests for the tape--a 9.7% response rate. |
| | Covington mailed out 515 letters. No one attended services in Covington on March 10th, but as of June 80th, we've received 74 requests for the tape--a 14.4% response rate. |
| | Laurel mailed out 1,071 letters inviting people to hear the same sermon in Laurel on March 31st. As of August 18th we've received 159 requests--a 14.8% response rate. |
We've now done our second mailing. This one is a sermon about the Sabbath of the Bible. Since our first mailing, the GN subscriber list has grown by over 900, which is 28% growth in five months! The response rate on this one started a little lower, but has slowly climbed to 9.6% combined.
| | |
| --- | --- |
| | New Orleans mailed out 1,967 letters this time. As of May 15th, we've received 189 requests for the tape--an 9.6% response rate. |
| | Covington mailed out 743 letters this time. As of March 16th we've received 79 requests--a 10.6% response rate. |
| | Laurel mailed out 1,356 letters this time. As of February 21st we've received 125 requests--an 9.2% response rate. |

Feast 2001!
We had a wonderful the Feast of Tabernacles in Panama City Beach this year! We hope yours was as inspiring and enjoyable as ours. Here are a few photos to whet your appetite! Click here for a full page of thumbnails from the Feast in PCB, FL.
Additionally, Fred Kellers recently wrote us about his Feast in Lagos, Nigeria, thanking everyone for prayers for safety. His party didn't have any trouble at all in this rough part of the world. In fact, he said the highlight of the Feast was the baptism of nine people, eight of whom are in their twenties. Since there are no elders living in Nigeria, all baptisms took place at the Feast of Tabernacles.
Vic Kubik also wrote, saying he had a safe trip to Zambia and Zimbabwe. Lifenets has a project in Zambia. You can read some of the details by clicking here to read his message. Zimbabwe is in bad shape and members are facing terrible times. Prayers are requested for them. You can read some details by clicking here to link to Vic Kubik's website.
Main Auditorium: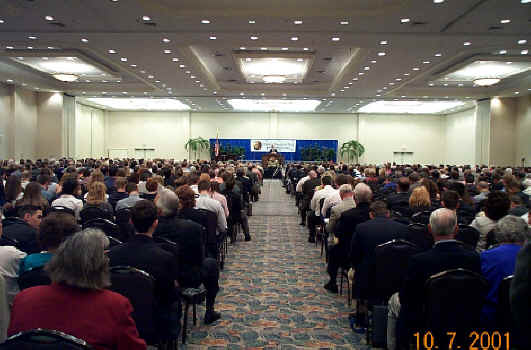 Overflow Room: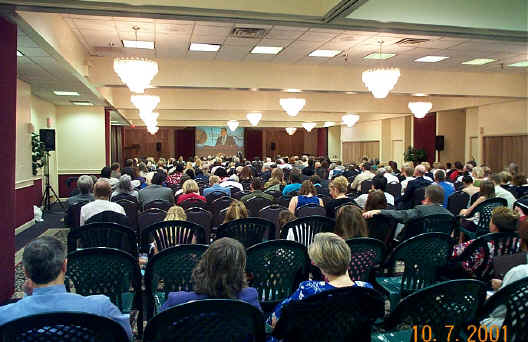 View from Edgewater tower: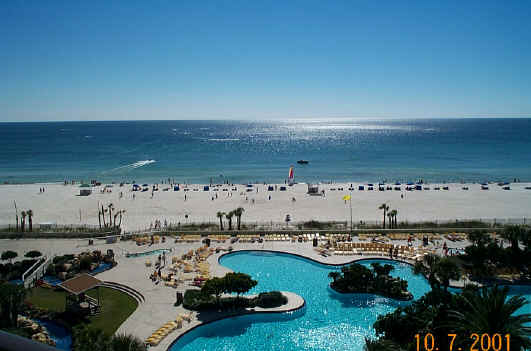 Teen Dance: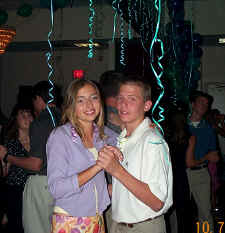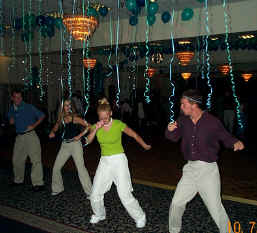 Singles Olympics & Beach Party: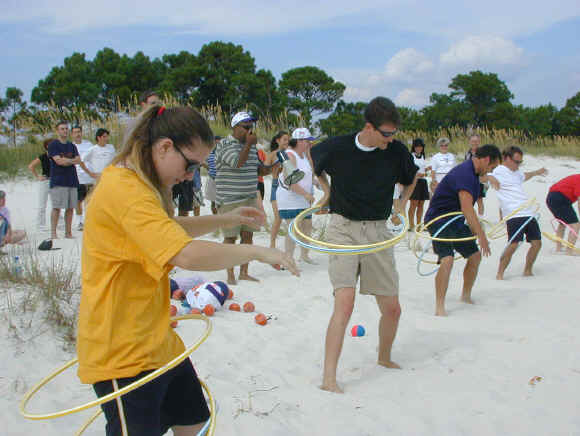 Dinner Cruise: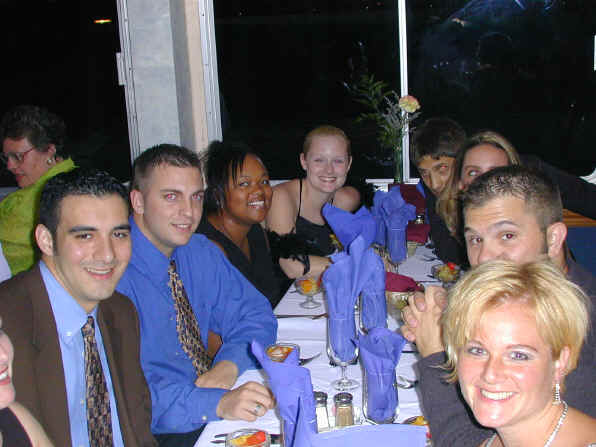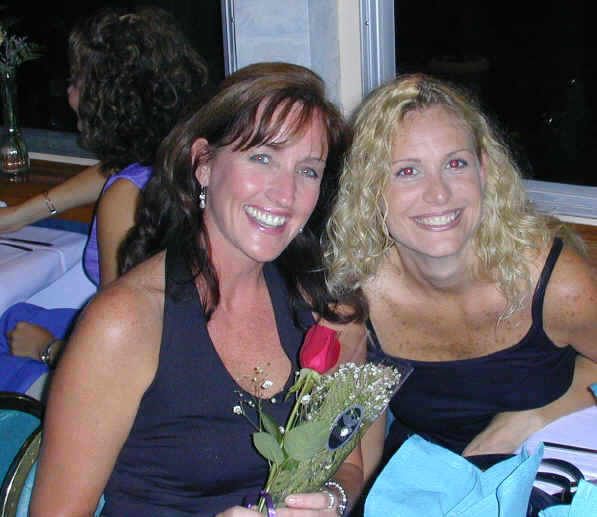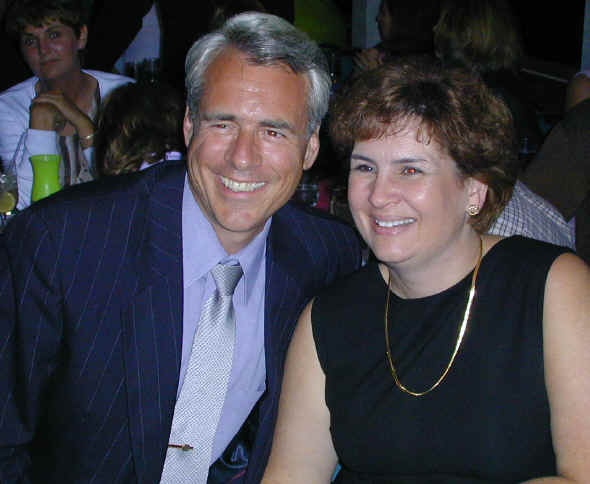 Mt. Etna it Italy erupted again in early August 2001 we have brethren that live near the volcano. Mr. Carmelo Anastasi sent this email update.

United Church of God-Church of God, Christian Fellowship
The Council of Elders had a special teleconference meeting on June 14 mainly to select members of a task force to interact with the task force from the Church of God a Christian Fellowship. The original announcements concerning the task forces from both groups are list below as well as the recent COE meeting report.
Email message from Mr. McCullough
Letter from UCG Council
Response from CGCA Board
UCG Council June 14 Teleconference Report
Update:
The two task forces met in Memphis, TN on August 14-15, 2000. Below is a link to their report.
August 15, 2000 Church of God Task Forces Report
November 20, 2000 Task Forces Meeting Report
March 21, 2001 Meeting with CGCF Executive Board and UCG Council of Elders
August 2001 letter from COE to brethren.

June 24, 2001 New Orleans Picnic. Click here to see photos.

Remnant Church of God-Ghana
The GCE approved a formal relationship with the Remnant Church of God in Ghana in June 2001. There were 302 ballots in favor and only 5 opposed, so the relationship is approved by an overwhelming majority.

The regional ministerial conference in Dallas (Sunday, June 10-Tuesday, June 12) went very well. It was one of the best conferences I've ever attended with a lot of good, useful material to help us as ministers serve God's people better.
The only bad thing was hearing about the terrible flooding in Houston, TX over the weekend. There are several UCG church families that had flooding in their homes--about 3 in the Houston South congregation and about 7 in the Houston North congregation. A state of emergency was declared on the Sabbath of May 9, so services had to be canceled. Both pastors from Houston were able to attend the conference and said they thought they had sufficient resources in the area to help the families affect. But I'm sure your prayers would be appreciated very much by those involved.
Here are some pictures of the flooding in Houston, sent to me by a friend. When you let your pointer hover over the picture it will show you the file name on the bottom of your screen telling you where the pictures were taken. They are in thumbnail format. To enlarge a photo double-click on it.
Some of these same photos are in a PowerPoint show a relative sent me. If you have PowerPoint 97 or higher you can view it by right-clicking here and saving the file to your computer to view.

The Houston Preteen Camp went well--but very wet with Tropical Storm Allison moving into the Galveston area just south of Houston on Monday afternoon. We had a lot of rain Monday afternoon and all day Tuesday, but were able to keep the activities going basically as scheduled. The campers still had a wonderful time. If you have a child between 7 and 12 years of age and you live in this section of the country, you might seriously consider letting them attend next year. It's normally the first week in June and activities include Swimming, Christian Ed, Crafts, Fishing, Recreation (a wide assortment of outdoor games and activities), Music, and Dance. Here are a few pictures of snow cone time. Click on a thumbnail to enlarge the picture.

2001 GCE Meeting
The 2001 General Conference of Elders meeting in Cincinnati, OH was very inspiring. This year the terms for one international representative (Leon Walker) and three from the United States (Vic Kubik, Les McCullough, and Burk McNair) expired. Burk McNair had his name removed from the list for balloting. On Sunday the other three incumbents were returned to the Council and Clyde Kilough was added as the new member. (Click here to read his short biography on the UCG main web site.)
The Strategic Plan, Operating Plan and Budget for 2001 were all approved, as were two amendments (concerning selection of the Council Chairman and the Council quorum) and the provisional manner of dealing with other religious groups.
(See the Home Office page for the official reports.)

Surprise "Going Away" Party for Tom & Linda Diaz
Tom and Linda Diaz of the Laurel, MS congregation are moving to northwest Arkansas to try to find better employment. We had a surprise party for them in them Saturday evening, March 17th. We're sad to see them leave, but know that our loss will be the gain of their new area. Between the two church circuits near where they will live there are about 8 churches and only the two pastors and 1 other elder. So they will be a great help in that area. Here are some photos of the event, which included some wonderful food and several gifts to thanks the Diaz' for their many years of service to God's people in the area. (They are thumbnail pictures to make the page load quickly. Click on one to enlarge it.)

Since our 10th anniversary my wife and I have talked about taking a cruise for our 25th anniversary. Since our 25th came in February of this year, we took a cruise to the Caribbean. My brother and sister-in-law joined us and we had a wonderful time. Click here to see a page of pictures.

Various thumbnail photos of our first Family Club meeting of this winter held in the New Orleans hall on December 9, 2000. Click on a photo to enlarge it.

Camp Team Conference
The United Youth Camps team met at the Home Office in Cincinnati Sunday, November 12, through Tuesday, November 14. In addition to reviewing and discussing details of how our camps went this past summer (and plans for the Winter Camp coming up next month) we discussed the results of our surveys of campers, staff, and parents. Discussions were held about many policies and procedures and we shared ideas about various activities that helped up meet our goals. We also began planning for next year including a shorter video and a new camp brochure. Tuesday Connie Coutellier, Director of Professional Development for the American Camping Association, came to update us on some of the latest issues facing camps. She was able to confirm that we DID receive accreditation with the American Camping Association with some very good scores. Watch for an article with more details in the next issue of the United News.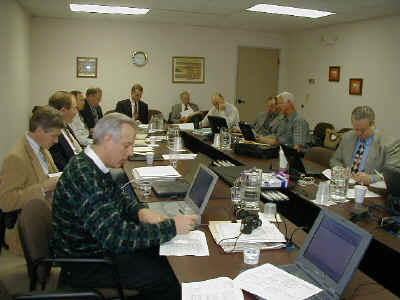 Camp Team Meetings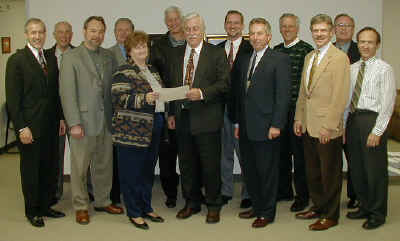 Camp Team in the Home Office with Les McCullough and Connie Coutellier of the ACA.

Songleaders' and Speakers' Workshops
We had some very profitable workshops in the New Orleans hall on December 3 for songleaders and speakers. Here are a few photos of the event.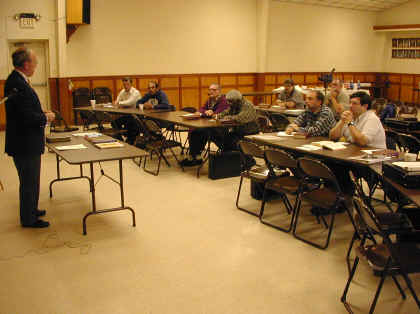 Regional Pastor Ken Giese leading the Speaker's Workshop.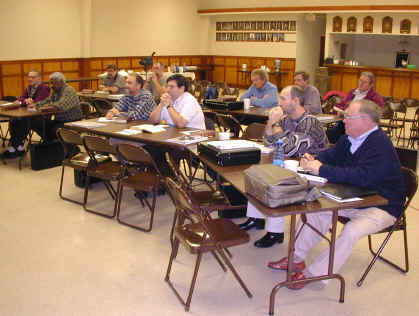 Audience shot.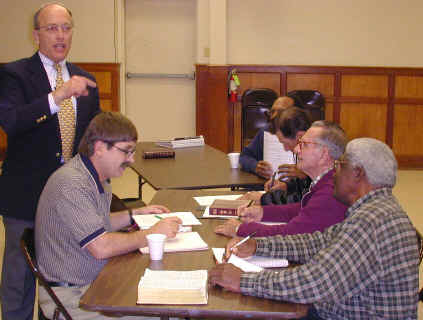 Ken Giese assigning one group a sermonette.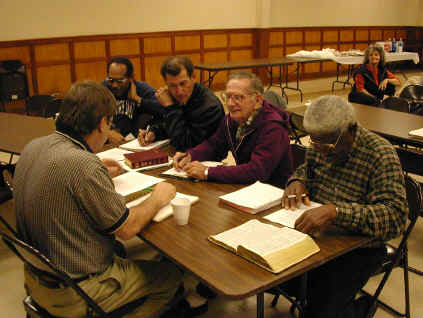 Discussion and research to prepare a sermonette outline.

Panama City Beach, FL Feast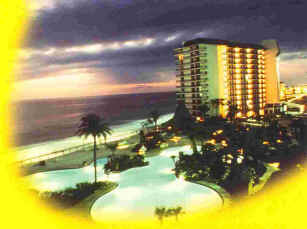 We had a wonderful feast in Panama City Beach, FL last fall (2000) for our first year in this beautiful facility. Click here for a look at some digital photos I took at the Feast there.
If you click the link above, there is also a link on that page to look at some other photos taken by Don Daugherty for the 2000 Feast.
We're looking forward to keeping the Feast there again next fall. We signed a contract in 2000 that lasts through 2002. Things have been going so smoothly and so many people have shown an interest in the site that it seems certain to continue on past that contract.

It's Rafting Time!
We had a great trip again going down the Ocoee River in east Tennessee on Sunday, August 12, 2001. There were 70 of us in all. Click here to see a page of thumbnails. Click on a photo to enlarge it.
-------------------
August 13, 2000 was the white water rafting trip on the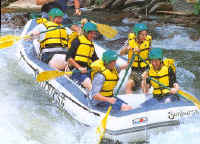 Ocoee River in Tennessee organized by Huntsville, AL congregation. We had a wonderful time camping in the Desoto State Park in NE Alabama on Friday and Saturday nights. We had 28 at the Bible Study we held in the campground on the Sabbath. On Sunday there were 66 people on the rafting trip. The water flow was greater than normal since they were also running the upper Ocoee, and we had a great time!

Camp Heritage received their ACA visit on Tuesday, August 15, 2000, and scored a perfect 100% on the visit. That was the fourth of our visits. Of the four camps visited, two received a perfect score (Carter and Heritage), and Oakhurst and Mackenzie missed a total of only 6 standards out of approximately 200 scored (for all camps). This is truly amazing! The final decision will be handed down in early November. A total cumulative score of at least 80% is needed. To quote from the email I received from Larry Greider, "God has richly blessed this youth program and we are very thankful for the opportunity to prepare the leaders for the next few decades and beyond."
Check the www.ucgyouth.org web page for more updates and information.

July 26, 2000
Howdy from Camp Carter in Ft. Worth, Texas. We have 112 campers and 39 staff members enjoying camp in a county setting here on the NW side of the city. The weather has cooperated since it's about 100 cooler than last week. Horseback riding and the ropes course have proven to be favorite activities for many campers. Many of the boys have gotten excited about the crafts as well since their project is to build kites. They work in teams and can choose from several set designs or create an original. The two kites judged best will win an award for their builders.
More updates later...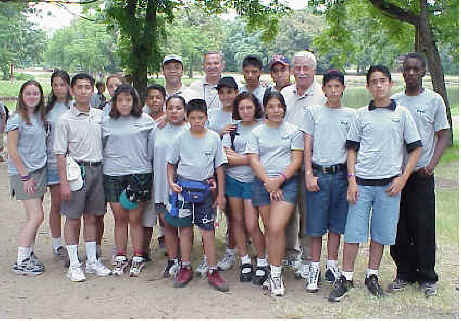 INTERNATIONAL GROUP - L to R: Jackie Seigle, Becky Seigle, Mr. Daniel Granados, Marie Guillot, Betsabe Tenorio, Dan Martinez, Mr. Larry Roybal, Belem Lopez, Israel Garay, Mr. Mario Seigle, Pamela Roybal, Noemi Vasquez, Moises Garay, Paola Roybal, Luiz Dzib, Mr. Les McCullough (UCG President), David Salazar, Moises Sanchez, Dave Gilbert (not shown-Mrs. Caty Seigle and Israel Tenorio)
July 31, 2000 - We got back home late last night. Camp went very well, all the way through the dance Saturday night. There were a lot of sad campers on Sunday morning when it came time to return home. We've already put a deposit down on the facilities for the same time next summer--the last week in July, which is the only time available for us.
We created a camp web site with comments from staff and campers and a number of digital photos from Camp Carter. More will be added later since Keith Stephenson took hundreds of pictures and we didn't have time to transfer them all to my computer. The URL for the camp website is http://treybig.org/Carter2000. You can type that into your browser, or just click on the link above.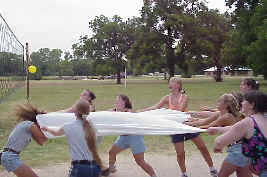 One other thing we did was offer to create a CD with hundreds of photos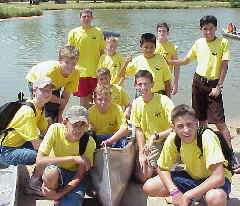 from camp this year. The charge is $5 to cover the cost of burning and mailing the CDs. Send $5 to UCG-Carter, 107 Aberdeen Dr, Slidell, LA 7046, along with your name and address to receive a CD.
There is a new web page for youth of the United Church of God, and it will be featuring web pages of our youth camps. You can visit the site at http://www.ucgyouth.org/ and watch for updates from all the UYC camps this summer and winter.

General Conference of Elders Meeting
The year 2000 General Conference of Elders meetings are now old news, but here are the Council Members that were selected:
United States - Gary Antion, Bob Dick, and Richard Thompson
International - Mario Seiglie

The Brookhaven congregation has now (April 2000) merged with Laurel. The special activity after services on April 29 to honor Jim and June Jenkins for their many years of service to God's people went very well.

Once again the special magazine offer is being made on Newsweek and US News & World Report. Any proceeds we receive will go to support the United Youth Camps. Click here to view the flyer. The deadline has been extended to June 1st.

The preteen camp in Houston was early in June with around 80 campers. Everything went very well. The young people and the weather both cooperated, the staff did a great job, and the preteens all seemed to have a wonderful time. The swimming pool and fishing seemed to be the favorite activities for my dorm of 6-8 year old boys. Many thanks to Mr. Giese and De Lynn Buchanan for their work to make the camp such a success!
Plans are already in the works to use the first full week in June again next year. Perhaps we'll be able to have a few more preteens from Louisiana and Mississippi go next year.

Feast Photos:
Several years ago an elderly member gave me some black and white Feast photos which he said he thought were taken in Belknap Hot Springs, Oregon. Many thanks to Mr. Leroy Neff who emailed me to tell me they were taken at Siegler Springs, CA at the Feast of 1952. He identified several of the people in the photos, which now shows on the page. If you can identify any of the others, please email me to let me know--and pass along the message that the pictures are posted here for anyone to help me identify. Click here for the Feast picture page. Please note it will take a while for the photos to load.

News Flash!
There is a new United Youth website being developed specifically for preteens, teens and young adults and their families. The official launch will come soon, but you can take an early tour. The URL is www.ucgyouth.org. Just click the link to be directed to that page.

Our fourth annual Pensacola Beach Party on Sunday, June 25th was lovely. The weather was beautiful and there were over 100 people there from as far away as Cincinnati, OH. There was plenty of food and the water was as clear as ever.

Singles Activity! Photo pages now complete.
The Singles activity was very enjoyable. It began with the Night to Be Much Observed meal Wednesday night, April 19, and ended with a dinner/dance on Saturday night, April 22. Click the links below for pictures.

The Council of Elders met following the General Conference of Elders meetings in May. Click below for the reports that were released.

Good News Waiting Room Program-Updated
We began our program in with the July/August 1998 issue. With the new sample issue we again began mailing copies in July 1999. We heard of an interesting letter the Home Office received from New Orleans as a result of the Waiting Room Program. Click here to read it. It's encouraging to know people DO read and respond!
We also have a recap of all GN requests through September 1999 from all sources. It shows we have had 643 responses from the Brochure Program and Waiting Room Program combined. Click here for the recap.
We have now done two Waiting Room mailings for the Laurel church with some magazines that were left from our earlier mailings. New reports are the 2000 mailings.
July 1998 stats Nov 1998 stats July 1999 stats
All mailings to date Monroe stats (through 1/99)
July 2000 stats August 2000 stats 2000 Laurel Recap

Listen to the Good News radio broadcast on 50,000-watt WWL-AM 870 at 9:30 PM Saturdays. Click here for the radio log at the home office web site or click here for the program downloads page.
Exciting news about the radio program!
WWL-870 AM in New Orleans is a clear channel news-talk station. After dusk it reaches parts of 28 states including the entire Southern United States and most of the East Coast and Midwest.

A friend forwarded a poem about the moral state of America that was apparently written by Judge Roy Moore. He is the judge that was recently sued by the ACLU for displaying the Ten Commandments in his courtroom. The case has finally been dismissed and the Ten Commandments remain on display in his courtroom. Click here to read it.