Ken Treybig Home Page
Last Updated: Friday, September 29, 2017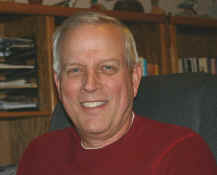 Welcome to my Web site. I'll use it to post some information about the local congregations of Church of God, a Worldwide Association I have the pleasure of serving. The URL for our local East Texas and Ruston, LA congregations is http://easttexas.cogwa.org. We webcast services as well. If you're interested just email me for the password.
Our biblical educational site is called, Life Hope and Truth, and is located at http://lifehopeandtruth.com/.
The COGWA Youth Camp website is at http://camps.cogwa.org. Registration is handled online for the preteen and teen camps and for the young adult Challenger program.
The Feast website is at http://feast.cogwa.org. Registration began June 5 and went very well.
The Member website is at http://members.cogwa.org.
Foundation Institute is as http://foundationinstitute.org.
Foundation Outreach International is at http://www.foundationoutreachintl.org/.
---
Upcoming Activities:
September 30, 2017 - Atonement, service at 2:30 (1:00 in Ruston)
October 4, 2017 - Opening night for Feast of Tabernacles
October 5-11, 2017 - Feast of Tabernacles
October 12, 2017 - Last Great Day
October 14, 2017 - Services
October 20, 2017 - Friday Night Live on COGWA members page
October 21, 2017 - Services, Blessing of Little Children, Bonfire & Chili Social
October 28, 2017 - Services, Men's Leadership Club
November 4, 2017 - Services
November 5, 2017 - Daylight Saving Time Ends
November 6-8, 2017 - Camp Conference
November 11, 2017 - Services, Sabbath School, Men's Leadership Club
November 17, 2017 - Friday Night Live
November 18, 2017 - Services
November 18-19, 2017 - Regional Weekend, Volleyball in Austin
November 23, 2017 - Thanksgiving
November 25, 2017 - Services
---
Winter Family Weekend
The Winter Family Weekend runs from Friday evening, Dec. 23, through Tuesday night, Dec. 27, 2016—so it's more than just a weekend! We start things off with a Bible study on Friday night, followed by Sabbath morning seminars, afternoon services and some Saturday night dancing. From Sunday through Tuesday evening, all attendees can participate in additional educational seminars, basketball, volleyball, organized games for the kids, including bowling, karaoke, family novelty Olympics, a clothing swap for families and, of course, the Family Fun Fair that includes large inflatables, putt-putt golf, mechanical bull and more. Also planned is a free pizza night, activities for singles and a final evening of dancing at the family dance.
This year the theme will be "Faith and Hope in a Troubled World." God's promises about our destiny and mankind's future give the life of Christians great meaning during troubling times. Jesus Christ stated in John 14:27, "Peace I leave with you, My peace I give to you; not as the world gives do I give to you. Let not your heart be troubled, neither let it be afraid." Although we live in a world that is anything but peaceful, with the help of God's Holy Spirit we can experience a great deal of inner peace. This peace and understanding is not grasped by most people today, but, as Jesus Christ makes clear, He provides as no other.
Visit the WFW page here for more details.
---
Young Adult Leadership Weekend
Living Stones:
Your Part in Strengthening God's House
Presidents' Day Weekend – Feb. 13 to 15, 2015
Young adults in the Church of God are eager to take their place in service to God and His Church. The Church is referred to as a spiritual temple, and we are the "living stones" that make up that building. Each stone is important to the integrity of the house and must be prepared for its place. During our third Young Adult Leadership Weekend, Feb. 13-15, 2015, we will explore the theme "Living Stones: Your Part in Strengthening God's House."
Some of the concepts we plan to cover are:
History of the Modern Church
Where Are We Today?

Holding Fast
Maintaining Our Commitment to God

Let No Man Despise Your Youth
Small group interactive discussion of 1 Timothy 4:12

The Importance of Unity
Working Together in Harmony

When Leaders Lead
Serving in Your Local Congregation

What Does It Mean to be a "Living Stone"?

FOI Project Brainstorming Session
Small group interactive discussion
The Church of God, a Worldwide Association, invites our young adults—high school grads through age 39—to attend the next installment of our Young Adult Leadership Weekend. The 2015 YALW will be held simultaneously at seven sites across the United States—Atlanta, Branson, Columbus, Fort Worth, Los Angeles, Twin Cities and Portland.
Online registration is now open. For more information and to register, simply go to http://members.cogwa.org/yalw.
---
International News
Are you interested in international news--as it related to Bible prophecy? What are the implications of Russian President Putin's recent moves in Crimea? What role does the Middle East play in end-time biblical prophesy? Check out our World News & Prophecy Blog on our Life, Hope and Truth website. Better yet, why not check out all our blogs (including those on prophesy) on the Blogs page?
You can also update your subscription preferences from any of the MailChimp messages sent from our LHT website.
---
Foundation Outreach International
This year FOI will be able to accept two young adults each from the Church of God, a Worldwide Association for projects in Zambia and Zimbabwe. Each project will last 12 to 14 days and will involve teaching English in the rural areas of those countries. In addition, under the auspices of FOI and by the invitation of Princess Sarvath El Hassan of Jordan, COGWA is again offering a volunteer program for young adults in the Hashemite Kingdom of Jordan for the 2014-15 project year. See the FOI website for more details at http://www.foundationoutreachintl.org/.
---
Young Adult Leadership Weekend
The Church of God, a Worldwide Association, is pleased to announce its second Young Adult Leadership Weekend, to take place simultaneously in Atlanta, Georgia; Branson, Missouri; Columbus, Ohio; Dallas, Texas; Los Angeles, California; Minneapolis, Minnesota; and Portland, Oregon, on Presidents' Day Weekend, Feb. 14-16, 2014.
The Church considers it essential to invest in the leadership development of our young adults to better enable them to use their talents and abilities in the work of God. Through these Leadership Weekends, the Church wishes to educate, motivate and inspire its young adults to further fulfill leadership roles within the Church and the work by providing focused education, as well as social opportunities to interact with peers. This year's theme will be "Salt of the Earth: Christian Leadership by Example." During the weekend we will cover such topics as how example is the foundation of leadership, how to put God and the Church first in our busy lives, how to deal with lust while living amid a provocative culture, and what it means to be pure before God.
Keynote speakers for the weekend will be Jim Franks (COGWA president), Doug Horchak (Ministerial Services operation manager) and Clyde Kilough (Media operation manager). Their presentations will be streamed over the Internet to the other locations, so everyone will be able to benefit from each presentation. All seminars are designed to inspire and motivate our young adults in spiritual service. We hope you will register early and plan to join us for this special weekend!
Online registration is now open. For more information and to register, simply go to http://members.cogwa.org/yalw.
We trust that this will be an outstanding weekend of education and inspiration!
---
Discern - New e-Magazine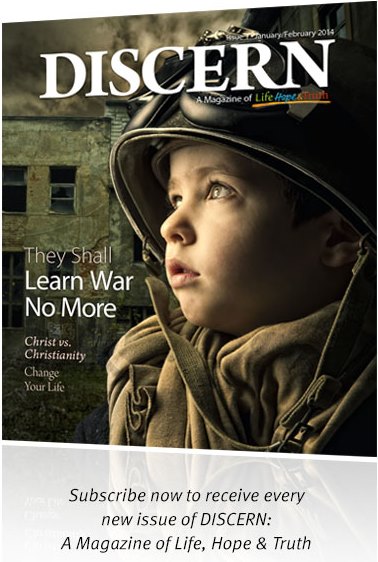 Our new e-magazine, Discern, will be launched online in mid-December. Here's a graphic of the cover of the first issue. Once it is available on the Life, Hope and Truth website you can sign up to receive it there.
You can also update your subscription preferences from any of the MailChimp messages sent from our LHT website.
---
Audio-Visual Resource
We have been upgrading our weekly webcast of services. In September we built a fast encoder and purchased some more powerful software to allow us to use an HD camera. The image quality of the webcast is much better. Next, on our list was to find a good remote control pan/tilt system for our camera. Our headquarters office purchased a system from Servo City, www.servocity.com, and are using that for use with the Foundation Institute Online classes that began last year. We are looking to purchase one of those as well, which offers full 360 degree pan and tilt capability. Check out their website if you're looking for any kind of servo or remote systems!
---
Typhoon Haiyan
Here is an update from Headquarters about the 'super typhoon' that slammed into the Philippines. All our members there are safe but our hearts and prayers go out to those who have lost loved ones and possessions in the wake of this massive storm. Here is the update:
From David Baker, regional director, Australia & Asia:
On Friday Typhoon Haiyan slammed into the Philippines with wind gusts up to 175 mph, one of the biggest storms on record to hit the Philippines. It is now estimated that more than 1,200 people have died. Storms such as this often cut electric and communication lines so updates are trickling in. I was able to speak with all three of our pastors in the Philippines and they report that all of our members are safe. As of yet I don't know what type of property damage our members may have sustained. Our pastor for the Visayas region, the area in which the storm passed through, reported that they had lost electricity for about 24 hours but all the members were safe and they were planning to hold Sabbath services. He will update me further once he has electricity and internet service restored. God has been very merciful to our brethren in the Philippines and our heart goes out to all the Filipinos who have lost family members and friends as well as having terrible destruction of their property.
/
---
2013 Camp Carter
We had had a tremendously successful week at Camp Carter! The weather has been unseasonably cool and the campers and staff members have encouraged each other to maintain a godly, millennial environment at camp--as much as can be done in this present world. Activities have gone very smoothly, we've had almost no accidents or injuries at all and we've had time to explore the topic of "A Call to Greatness" both in the daily Compass Checks as well as in the Christian Living classes and the Bible discussions/studies in the evenings. On top of all that, the food has been FABULOUS this year with a new food service staff. Even campers are commenting on how good the food is!
---
East Texas Rental Hall
We are excited to have secured the use of a commercial rental space in Gladewater to use for services!! There are a few modifications we will need to make to increase it's functionality for services, so we plan to start meeting there on August 3.
---
Feast Registration
Online Feast registration began Sunday, April 14, at 11 AM Central time (noon Eastern) on the Feast website at http://feast.cogwa.org. It is now closed, but the "Change Existing Registration" option will be available all summer for anyone that needs to change their registration.
---
Updates
Several exciting updates were announced the week of February 8. The Foundation Institute Continuing Education Seminar for June 2013 reached capacity and a waiting list has been established. Demand has been strong so they are considering an additional 5-day seminar for July if there is sufficient interest. Plans are in the works this year to create several booklets, and a printed booklet is planned for mailing to all COGWA members around Passover time. In addition, a new outreach organization, Foundation Outreach International, was announced this week. It is a separate 501(c)3 organization that will help fund humanitarian programs around the world. A website will be ready soon (http://www.foundationoutreachintl.org/) and there are already plans for 2013 to fund programs, including camps and educational scholarships in needy areas.
More details are available in the February 7, 2013 weekly video update: http://members.cogwa.org/news/in-accord/february-7-2013.
---
Young Adult Leadership Weekend
Another synchronized Young Adult leadership training weekend is being done February 16-17, 2013. The main site is Dallas, TX, but there will be satellite sites in Branson, MO; Los Angeles, CA; and Twin Cities, MN. Go to http://members.cogwa.org/yalw for details.
---
Foundation Institute Online
For the first time ever, classes from the Church's educational program will be offered to members everywhere. Mr. Richard Thompson's "Harmony of the Gospels" class was chosen as the first class to be offered to be streamed each Wednesday night at 8 PM Central time. To view the weekly class, you must sign up at http://foundationinstitute.org/online. Registration and textbook information is available in the right sidebar of that page.
Streaming video is available in low (the default) or high resolution. There is also an "Audio only" feed available for those with a slower internet connection. The class will run every Wednesday evening until the class is complete--probably about the end of the school year.
---
Feast
The Feast in Pigeon Forge, TN has been wonderful this year--as I'm sure it has been in other places as well. Sermons from Pigeon Forge and St. Augustine, FL are being uploaded and posted on the Feast website during the Feast. Just go to the http://feast.cogwa.org page to listen to them.
---
Young Adult Leadership Weekends
I'm very excited to see the first ever synchronized Young Adult leadership training weekend done simultaneously in three locations across the country--Atlanta, GA; Columbus, OH; Portland, OR--on the weekend of November 3-4, 2012 and again in Dallas, TX the weekend of February 15-17, 2013 (Presidents Day Weekend). We've created a special set of web pages and a registration system for the November weekend locations and hope many of our young adults will take advantage of the great opportunity for fellowship and learning in serving the Body of Christ.
You can access the main page at: http://members.cogwa.org/yalw. Then clicking on any of the three city photos will take you to the page with specific information for each of them and a link from which you can register for the event. NOTE: There is a registration fee for each site to cover costs of various activities, in addition to the cost for housing, as you'll see when you read the details on each page.
---
Feast Youth Lessons
September 14 - The COGWA Youth Instruction page for the fall feast lessons was unveiled today! There are 21 lessons at http://feast.cogwa.org/cyi. There are also zipped files for download that have the various segments grouped--and one big zip file (8MB) that contains ALL the files. Feel free to download and use to help teach your children about the incredible lessons we can learn from the fall feasts.
---
Wow! I can't believe it has been six months since I posted ANYTHING on my personal website. Life has been incredibly busy--and remains so. Right now (August 12, 2012) I'm trying to finish up the final choir rehearsal part for the four songs the choir will sing this year during the Feast at Pigeon Forge, TN. We have over 80 who have volunteered to sing, so I took the opportunity to include a couple of numbers that I believe will have a great impact with a large group--including the very moving "The Hallelujah Chorus". I'll include a few updates below.
---
New Public Proclamation Website
Our new public proclamation website, http://lifehopeandtruth.com was launched during the Ministerial Conference held in Richardson, TX June 11 and 12, 2012. Since many of our African ministers are unable to get visas to travel the U.S. the conference was taken to them, resulting in a new event in recent Church history, an all-African Ministerial Conference.
Reports on these and other recent events can be found in the July and August members letters at http://members.cogwa.org/news/ and in the weekly video updates provided by the administration and posted on the Member website at http://members.cogwa.org/news/in-accord/.
---
Media Updates
After our organizational conference January 9-11, 2011 in Louisville, KY, I was asked to help with our Internet presence and have been working with a group of developers ever since. The temporary website was replaced with a more professional site Google Analytics recorded 1.9 million page views in 2011 by just shy of 120,000 unique visitors -- a whole lot more people than our attendance, so that is encouraging.
As of early January 2012 we have 81 United States and international congregations linked to sub-domain sites. Our member, camp and Feast of Tabernacles websites all served us well last year, as well as our online camp and Feast registration systems. A Ministerial Website went online in the middle of last year to provide a resource for forms and material useful to pastors and elders.
As noted below, on June 11, 2012, on the first day of our Ministerial Conference in Dallas, our new public proclamation website, Life Hope and Truth, officially went live! After many months of planning by a number of people and a lot of guidance from a recent hire in the office, William Beech, it was great to see the site go live. William was very instrumental in the design of the new site into seven "silos" where more and more detail is explained in each area as readers go deeper and deeper in learning about the wonderful truth of the Bible. The site is http://lifehopeandtruth.com/ and we have been very encouraged by the growth in visitors and the amount of attention it has been given by search engines--even in its infancy. You can also sign up now to make an LHT start page the home page for your browser. Check it out here. On March 15, 2013 we launched the Spanish version of Life, Hope and Truth and in June 2013 we reached the 1 million page view mark for LHT with visitors from 198 different countries. We have begun publishing booklets as well with three completed as of June 2013. A new online magazine, Discern, begins mid-December 2013.
---
Cost-Cutting Ideas
We received a few more cost cutting ideas for low-income individuals--for medicines and weatherization of homes. Click here or click the "Links" button on the menu system.
---